Laffy Taffy Pipe * Pink Pipe * Purple Pipe, Smoking Bowl * Tobacco Pipe * Cool Pipes * Girly Pipe * Candy Colored Pipe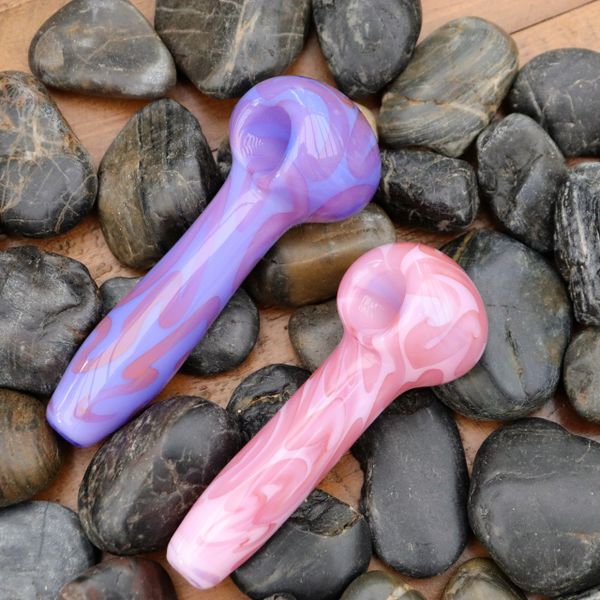 Laffy Taffy Pipe * Pink Pipe * Purple Pipe, Smoking Bowl * Tobacco Pipe * Cool Pipes * Girly Pipe * Candy Colored Pipe
Sticky, gooey taffy...the perfect treat. Get giggly with these fun pieces with random design in pink or purple. Please select your color choice when ordering. Approx. 3.5" - 4" long. ***This is NOT a glow-in-the-dark piece***

Made out of heavy borosilicate glass .The photos and description give accurate details of each piece, but please bear in mind that color hues may vary slightly, depending on your monitor, the raw materials used, etc. The photos are as accurate as possible – they have not been enhanced/altered. 

Features:




•

Handcrafted in the USA

•

Created with extra heavy wall glass and annealed in a kiln for the highest durability

•

Carefully packaged and discretely mailed in a USPS box.

***PLEASE NOTE: By purchasing this pipe you agree and confirm that you are of legal age, or older, to purchase tobacco pipes in your state. You also confirm that this glass pipe is legal for sale in your area. You assume any and all liability if you breach this confirmation. All items are intended for TOBACCO use only.




If your item(s) arrive broken you will need to file a claim with the USPS. We are not responsible for items damaged during shipment.  You can start your claim with the USPS here: https://www.usps.com/help/claims.htm




If you do not like your piece when you receive it, contact me within 24 hours or receiving it and you may return it UNUSED for store credit. You will be responsible for shipping charges back to our shop as well as shipping charges of any new item purchased with store credit. 




Please do not use any items you are not happy with as I cannot accept a used item for return/exchange. No exceptions. 




If the item is not returned in its original condition, we cannot issue a store credit.




If there are any other issues with your item(s) please let us know right away and we will work with you to make you 100% happy. 




LOST/STOLEN/MISSING Packages: Per ETSY's seller's protection policies, we are not responsible for packages that have tracked as DELIVERED but the buyer has not received. Once they have left our shop they are literally out of our hands. If tracking shows it was delivered yet you did not receive it, you will need to contact your local Post Office. Unfortunately, this is not something we have control over and we will not issue a refund for such events. If you need to initiate a Stolen Mail Report with USPS Postal Inspector's office, we will cooperate in getting you all the required information from our end of the transaction. You will need to complete a USPS affidavit affirming the status of the package as "stolen" (and a USPS Postal Inspector may contact you). In addition, you may also be asked to complete an insurance affidavit. You might also want to file a Stolen Mail report with your local police so that there is a record of mail theft in your area. You can start your Missing Mail process with the USPS here: https://www.usps.com/help/missing-mail.htm




***PORCH PIRATES*** It has become an ongoing problem that items left by the UPSP on front door steps or mailboxes are stolen by Porch Pirates. To avoid this from happening to your package, we highly recommend that you either ship to an address where someone is present during the day, OR upgrade your shipping with "Signature Upon Delivery" which will ensure the recipient signs for the package. We are not responsible for items that are stolen.